Coffee and Catholicism
"Forming Consciences for Faithful Citizenship"
and
"Open Wide Our Hearts: The Enduring Call to Love"
Coffee and Catholicism will resume on October 13 with a slightly different flavor than in the past. We will be participating in a diocesan-wide reflection on two documents published by the USCCB (United States Conference of Catholic Bishops): "Open Wide Our Hearts: The Enduring Call to Love" and "Forming Consciences for Faithful Citizenship." These documents focus on the role of the faithful in resolving issues that plague our society.
Ellen Santora, Ph.D., will facilitate the first session from 9:15 until 10:45 am on October 13, in the worship space, wearing masks, and socially distancing. Those who come will reflect on "Open Wide Our Hearts, The Enduring Call to Love," a document that examines racism in our society and how Catholics can participate in its abatement.
Links to both documents and resources for reflection are available under the "Social Justice" tab above.
Coffee & Catholicism 2019-2020
From January 7 through March 31, we will be presenting and discussing Bishop Robert Barron's Program, THE MASS. A broad misunderstanding of what is happening at Mass has shaped several generations of Catholics. Walk through the liturgy with Bishop Barron and be transformed through insights on the most privileged and intimate encounter with Jesus Christ. See how the Mass resonates with a call from God and a response from God's people, the Church. Most importantly, develop a greater appreciation of how we are intimately joined with the Body, Blood, Soul, and Divinity of Jesus through the Holy Eucharist. The program will help us understand how to fully, consciously, and actively participate in the source and summit of our Christian life.
Dates for Coffee & Catholicism for the remainder of the year:
2020
January 7 & 21
February 4
March 3, 17 & 31
April 14 & 28
May 12 & 26
June 9
Time: After Tuesday morning Mass from 9:15 to 10:30 am
Where: Classroom 7
Coffee & Catholicism 2019-2020
Please watch the website and bulletin for updates on when we will resume!
St. Paul's Advent Retreat
Open My Eyes
To Behold You
Saturday December 7
1:00-3:00 pm in classroom 7-8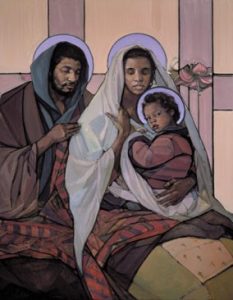 Deepen your encounter with God this Advent Season through Christian Art. Spark your imagination and open the eyes of your heart to better hear the divine promptings in your life.
Please register with Katherine katherine.cappuccio@dor.org / 671-2100 ext. 24
Our faith-based bereavement support group is in its second session.
If interested in future sessions please contact Pastoral Associate Katherine Cappuccio,
671-2100 x24 . The registration fee of $20 covers all sessions.