The Sacraments of First Penance and First Holy Communion are typically made when a child is in second grade (at least 7 years of age, which is considered the age of reason in the Diocese of Rochester).
Sacrament of First Penance must be completed prior to First Holy Communion.
It is the expectation that all sacrament candidates receive continuous instruction in religious education separate from the sacrament prep programs. This means that children seeking First Penance and First Holy Communion must begin classes in faith formation in first grade.
Contact Person:
Kim Sbarra 671-2110, kim.sbarra@dor.org
Is Your Child Ready for First Penance  and First Holy Communion?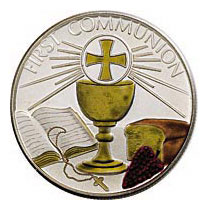 Calling all 2nd graders!  If your child is in 2nd grade the need to be registered in our School of Awesome Religion to be eligible to receive their Sacraments.  If they are not registered and intend to make Sacraments this year please contact me so I can get them in a class.
THERE IS A MANDATORY PARENT/SACRAMENT INFORMATION AND REGISTRATION MEETING ON:  SUNDAY, OCTOBER 21 AT 1:00 P.M.