The Sacrament of Confirmation
Confirmation 2020 has been officially postponed due to the covid-19 situation.   The Diocesan Department of Sacramental Catechesis is in the process of determining how to move forward, and once they relay that information, we will let you know.  Much will depend on when and how restrictions are lifted. Until we know more, please be assured of our prayers.  Stay home anad stay safe!
The Spirit is Alive!
Awakens a young person's experience of Baptism and points them towards sharing in Eucharist.
Strengthens youth for their journey of discipleship and for active participation in the faith community.
Confirmation Preparation is a 2 year process throughout the entire Rochester Diocese.
Candidates will have:
Opportunities to grow in knowledge and understanding of the Gospel message through systematic catechesis. (Head)
Opportunities to spark a passionate, heartfelt relationship with Jesus Christ through retreats, attendance at weekly Mass, and Scripture.(Heart)
Opportunities to outwardly express faith through concrete actions in service to family, parish and community. (Hands)
If you have questions or concerns, please contact Bonnie 671-2100 x27 or by email bonnie.serio@dor.org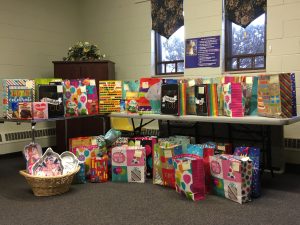 St. Paul's Confirmands, donated and collected  birthday supplies to assemble a "birthday party in a bag" to be given to Hope House for distribution to those in need.
Confirmation Registration for this year is closed.  If you have any questions please contact Bonnie Serio at 671-2100.