Mission and Vision
Our mission is to build disciples and enable youth at St. Paul's to make friends, have fun, and explore their faith.
Our vision is to engage families and young people in the Parish so they feel that St. Paul's is not just their Parish-but their community. We do this through having family dinners, organizing service projects, leading games, and providing faith based activities.
Who is Youth Group For?
Youth Group is for students in grades 6 and 7. High school volunteers help to run snack, games, and lead small group discussions.
Volunteers Needed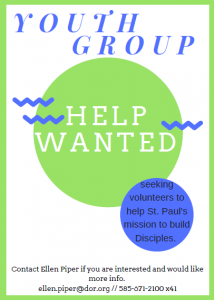 We need Adult Volunteers to help lead Youth Group. Please contact Ellen for more info!
High School Opportunity
We want you to consider going to NCYC! This is a great opportunity for High Schoolers to grow in their faith and uniquely experience pilgrimage. Please contact Ellen if you are interested! Learn more here: http://youth.dor.org/ncyc/
Youth Group Registration:
To register your child, please fill out both forms below and return to Ellen Piper via mail or drop off. Payments can be made by enclosing a check with your forms or via credit card by clicking on the payment button below.
Youth registration form grades 6-12 2018-2019
Youth Group Payment
If you have questions or concerns, please contact Ellen at 671-2100 x41 or by email ellen.piper@dor.org